Good Work Deserves Recognition.
The INC Awards are the premier international showcase of excellence for the nuts and dried fruits industry.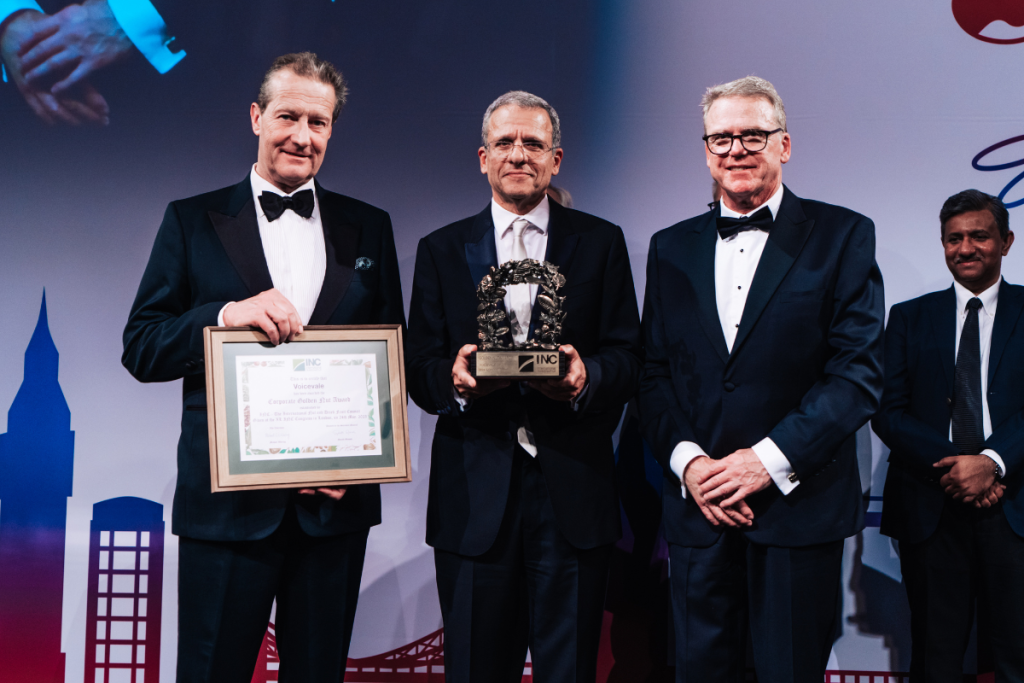 Corporate Golden Nut Award
The Corporate Golden Nut Award was awarded to Voicevale. Established in London in 1981 by Managing Director, Roby Danon, Voicevale is an importer and distributor of nuts, dried fruits, seeds and coffee to industries around the world, with local subsidiaries, armed with local knowledge and proximity to customers. The group provides its customers with a service which aims to ensure food safety in products, price stability, knowledge of impending markets as well as future demand & supply dynamics allowing buyers to take informed decisions. 
On hearing of the news, Roby Danon explained, "I am extremely honoured that Voicevale has been chosen to receive such a prestigious award within the nut and dried fruit industry. From starting off as a small room in an office building, we now have a global reach with local subsidiaries in seven locations providing optimum solutions for all our customers while maintaining sustainability at the forefront of our business at all times. I couldn't be prouder of all my colleagues who have helped us get to where we are today."
The Corporate Golden Nut Award is given to truly outstanding companies that have shown excellence in and commitment to the nut and dried fruit industry with the intention to aid in the sustainable growth of the sector.
This year, the Individual Golden Nut Award was awarded to INC Executive Director, Mrs. Goretti Guasch for her 25 years of service to the nut and dried fruit industry. Goretti has been a pivotal player in the formation of the INC as we know it today. Her vision of long-term growth for the INC has helped turn an association of 200 members into a leading global organization whose membership represents over 85 % of the sector's commercial trade with a supply value with both nuts and dried fruits estimated at over US 47 billion.
Goretti's business education and forward-thinking strategic planning and criteria have helped the INC bring together the sector's leading companies at the top international and largest congress for the industry which plays a crucial part of the evolution and growth of the nut and dried fruit supply chain. To date, the largest congress embraced over 1,500 top industry players from 65 countries. As well as this she had pivoted the creation of the INC Pavilions under the umbrella of international trade fairs, nowadays being one of the most acclaimed exhibiting space for the industry, and has implemented the best education program for the sector, the INC Academia with both online and onsite programs. 
This progressive business approach has enabled the INC to increase incomes by an interannual average of 12.6% in the last 10 years which has allowed for essential projects to be developed. These projects include, among others, the most extensive nut and dried fruit online statistics sector database, grants for investigation to health research, grants for regional promotion through industry stakeholders and most recently Global Dissemination Plans, now concentrated in the key markets of China and India. These projects are beneficial not only to provide the industry with essential data but also to aid in the healthy balance of supply and demand.
Goretti Guasch explained, "I feel very humbled and at the same time extremely proud to receive such an important award and be acknowledged for my professional career within such a fantastic industry. This really is a great honour that I will hold very dear to me. I would like to thank all those who have worked alongside me and my team at the INC headquarters."
The Golden Nut Award is given to those individuals who have clearly made a significant contribution to the nut and dried fruit industry over a period of years.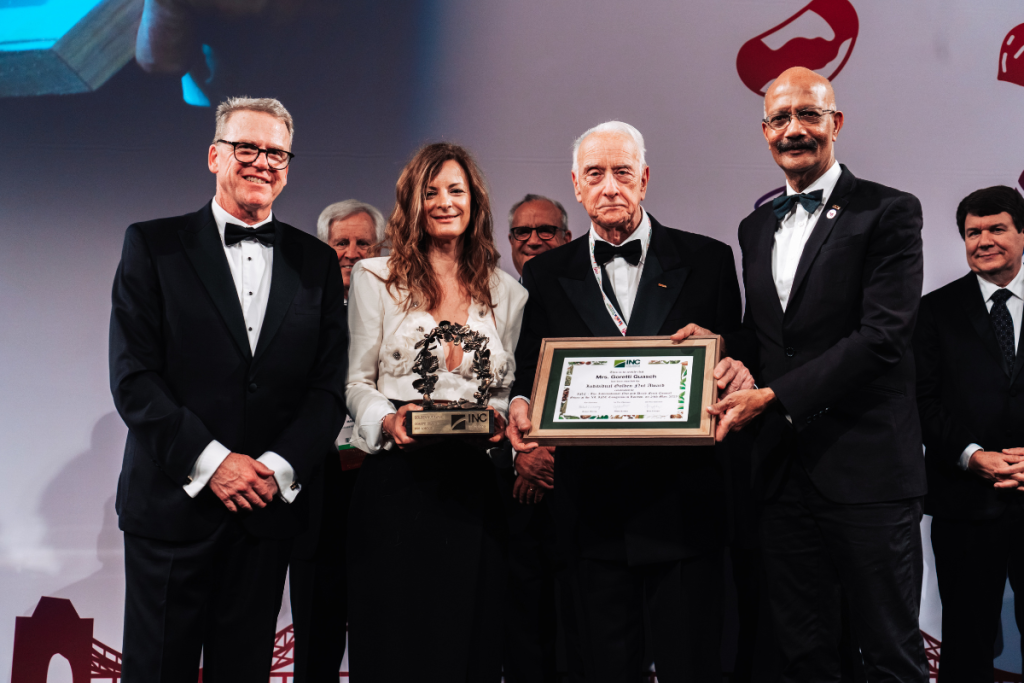 Professor of Paediatric Allergy at King's College London, UK
Gideon Lack is Professor of Paediatric Allergy at King's College London and Head of the Children's Allergy Clinical Academic Group at King's Health Partners Institute of Women and Children's Health at Evelina London, Guy's & St. Thomas' NHS Foundation Trust. He studied medicine at Oxford University before training as a Paediatrician in New York and specialised in Allergy at National Jewish Center in Denver, Colorado. He was Professor of Paediatric Allergy and Immunology at Imperial College London for 12 years before moving to King's College London in 2006.                                                                                                                                                                                                                                                                                          His research focuses on the prevalence of food allergies in children and the relationship between food allergies, eczema, and asthma. He works on novel immune-modulatory treatments for food allergies and on developing new strategies to prevent the development of allergies and asthma in children and adults.                                                                                                                                                                                            The LEAP (Learning Early About Peanut allergy) study, published in the New England Journal of Medicine (2015) showed that early consumption of peanuts in atopic infants reduces the development of peanut allergy by >80%. In 2016-17 these findings were translated into changes in public health policy in the USA and Australia.                                                                                                                                                                                                                                                                                                                                                          Among other affiliations, he is a Member of the British Medical Association, the European Academy of Allergology and Clinical Immunology, and the Royal College of Paediatrics and Child Health.
Legendary chef Michel Roux Jr is the Chef Patron of iconic Michelin 2-starred Le Gavroche in Mayfair, London, as well as being an author and familiar face on our TV screens. Over the years, Michel has trained some of the UK's most respected chefs, including Marcus Wareing, Gordon Ramsay, and Monica Galetti, amongst others. 
Michel also oversees the food and beverage outlets at the legendary hotel, The Langham, London, which includes Roux at The Landau, Palm Court, and The Wigmore. Michel also operates Chez Roux, which offers unparalleled catering at your home or chosen venue, alongside individual cookery classes and culinary consultancy from the Roux team.
The INC Award for Excellence in Gastronomy is a recognition that acknowledges chefs who have made significant contributions to high gastronomy: culinary creations and new product development including nuts and/or dried fruits.
Showcase your brands' latest innovations to a global audience
The winner of the XL World Nut and Dried Fruit Congress, in London, May 22-24 was Nutraj Bactopure.
The Nutraj Bactopure range of nuts and dried fruits was launched in response to a growing awareness among Indian consumers about the risk of food contamination. Each batch of products undergoes a validated process for annihilating pathogens and is certified "pathogen-free" by a government-accredited lab. A QR code printed on each pack provides access to a batch-level quality-control certificate. This feature sets Nutraj Bactopure apart from other nut products in the Indian market and has made an indelible positive impression on the mindset of discerning Indian consumers. To date, no other company in India has been able to provide such assurance to its valued customers. Nutraj Bactopure is therefore an excellent choice for customers who are looking for a premium-quality nut product that is safe and healthy. This first-of-its-kind initiative is a testament to the brand's commitment to providing safe, high-quality products to its customers.
To see the applications for the 2023 Innovation Award click the button below. 
The INC Celebrates New Ideas and Innovative Approaches. INC wants to thank all the companies for submitting their brand's new products for the Innovation Award. This contest will select the Top Best new product/service at the XL World Nut and Dried Fruit Congress, in London, May 22-24. 
These are the applications for the 2023 Innovation Award: 
Don't miss this opportunity to show the nut and dried fruit industry your dedication to innovation and share your brand's new products at the XL World Nut and Dried Fruit Congress, in London! Delegates attending the Congress have the chance not only to share experiences but also to get enriched with new ideas. This contest will select the Top Best new product/service at the XL World Nut and Dried Fruit Congress, in London, May 22-24, 2023. Open only to INC members attending the Congress, this is a unique opportunity to reach 1000+ participants from 60+ countries, highlight your new products/services and enhance your company's reputation for innovation.
Excellence in Sustainability
The Award for Excellence in Sustainability aims to recognize projects and companies/organizations who show outstanding achievements and inspiration in the field of sustainability. The winner will be announced at the 40th World Nut and Dried Fruit Congress in London, May 22-24, 2023. Open only to INC members attending the Congress, this is a unique opportunity to reach 1000+ participants from 60+ countries, and highlight your company's reputation in sustainability. In addition, the winner will be featured in the NUTFRUIT magazine and Congress video.
The winner of the XL World Nut and Dried Fruit Congress, in London, May 22-24 was ofi.
ofi's project is more than a decade of establishing and implementing programs to improve the environmental and social impact of almonds, cashews and hazelnuts. Most recently, they've launched dedicated sustainability strategies with 2030 targets, focusing on the highly specific challenges of each supply chain: the Cashew Trail in June 2021, the Hazelnut Trail in December 2021, and the Almond Trail in July 2022.
In 2008, they formed the first farmer group in Côte d'Ivoire to provide traceability. With their customers and partners including GIZ, ComCashew and Gain, ofi has already supported 50,000 smallholder cashew farmers in Africa and Asia through 24 sustainability projects with more than 15 partners. In Vietnam, Côte d'Ivoire, Ghana and Nigeria they have trained more than 21,000 farmers on good agricultural practices in 2022. They have distributed approx. 1 million USD premium to small farm holders to support their livelihood. Around 80,000 beneficiaries have been reached through their health and nutrition programs organized within cashew communities.
In 2018, ofi worked with farmers and labour contractors in its supply chain to introduce labour contracts for hazelnut harvest workers —a first for the hazelnut sector, and also for Türkiye's agriculture sector. They have renovated worker houses in selected villages to provide seasonal workers with access to basic services, such as clean water, electricity, proper toilets and bathrooms. In partnership with the International Labor Organisation (ILO), Ministry of Education of Turkish Republic, and local governorships they have established 24 summer schools for children of seasonal workers, attended by 339 children in 2022. Since 2013 they've had extensive sustainability programs happening on the ground in Türkiye, supporting over 20,000 hazelnut farmers.
Sustainability programs in their Almond business kicked off in 2014 with their Bee Friendly farming and continued with initiatives in the area of water, healthy ecosystems and biodiversity, greenhouse gas emissions reduction and supporting communities in almond growing regions.
To see the applications for the 2023 Sustainability Award click the button below. 
On February 23, 2023, the INC launched the Award for Excellence in Sustainability. The purpose of this award is to recognize a project and company/organization that has made a remarkable contribution and can serve as an inspiration in the field of sustainability. The deadline for applications was April 15, 2023. The INC received 13 applications of projects implemented or being conducted in 11 countries. The projects will be assessed on the basis of their interest, relevance, impact and innovative approach, among other things. The projects will be review by experts in the field of sustainability and the winner will be announced at the INC London Congress.
These are the applications for the 2023 Sustainability Award: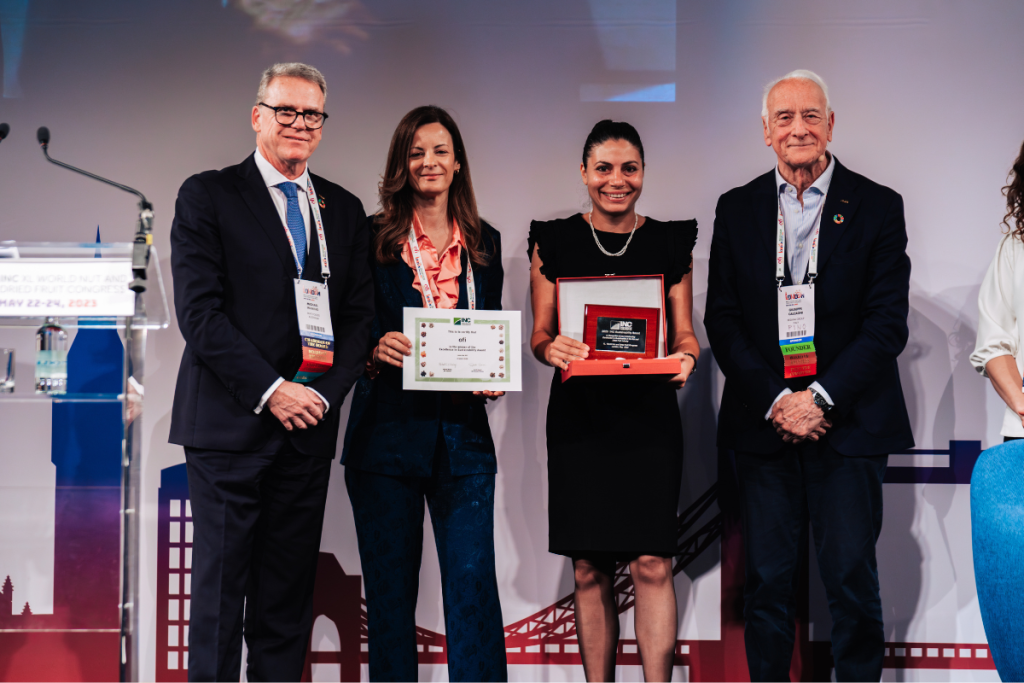 Corporate Golden Nut Award
The Corporate Golden Nut Award will be awarded to OFI. OFI is a new operating group born out of the reorganization of the Olam Group. OFI offers sustainable, natural, value-added food and beverage ingredients and solutions so that consumers can enjoy the healthy and indulgent products they love. It consists of Olam's industry-leading businesses of Cocoa, Coffee, Nuts, Spices and Dairy with operations across America, Africa, Europe and Asia, with a network of 15,000 employees, operational in 48 countries, sourcing directly and indirectly from approximately 2.6 million farmer suppliers globally and operating 100+ manufacturing plants.
Prof. Jordi Salas-Salvadó
Professor and Director of the Human Nutrition Unit, Department of Biochemistry & Biotechnology at the Rovira i Virgili University, Spain
Head of Nutrition at the Internal Medicine Service, Sant Joan University Hospital of Reus. Principal investigator of the CIBER Physiopathology of Obesity and Nutrition (CIBERobn), at the Institute of Health Carlos III. Director of the Iberoamerican Network on Metabolic Syndrome (RIBESMET). Chairman of the INC World Forum for Nutrition Research and Dissemination. 
In recent years, Prof Salas' research has focused on human clinical trials evaluating the effect of diets and dietary compounds on obesity, Type 2 diabetes mellitus, metabolic syndrome and cardiovascular disease. Since 2005, he has been one of the leaders of the PREDIMED study, a landmark trial evaluating the effect of the Mediterranean diet on the primary prevention of cardiovascular diseases.
Since 1983, he has directed 20 research projects funded by national and international public bodies and 25 projects in conjunction with pharmaceutical and food industries. He has published more than 600 scientific studies, as well as numerous reviews and editorials. Editor of 8 books and co-author of more than 50. Has been declared by Clarivate Analytics as "Highly Cited Researcher" in 2018, 2019 and 2020, as one of the most cited researchers in the world.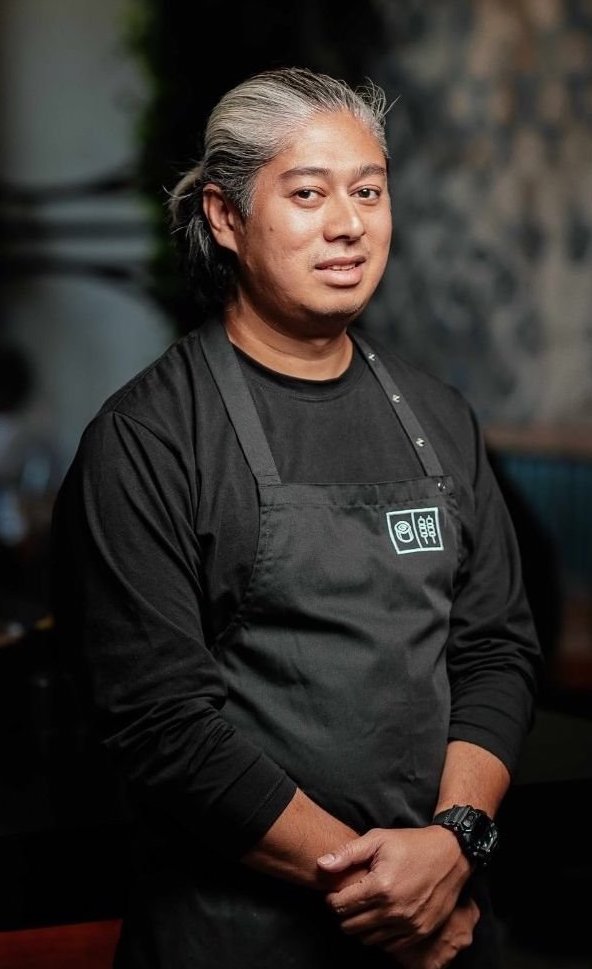 Akmal embarked in his culinary journey at a young age during high school with his parents as a hawker. Life was straight about food, simple food and gatherings. With over 20 years of great experiences working with great chefs like Dan Hunter, Luis Andoni Aduriz and Yasuhiro Sasajima, Akmal has emerged with a style and identity of his own. 
Over a 7 year stint as Head Chef in Iggy's Restaurant Singapore, in 2012, it was in the prestigious World's 50 Best restaurant awards landing it on position no. 26 and No.1 restaurant in Asia. In those years, he has cooked for famous figures including Singapore's late founding father Mr Lee Kuan Yew with other politicians, participated exhibitions, and culinary competition such as the San Pellegrino cooking cup and represented Singapore in a showcase in San Sebastian Gastronomica. He has also cooked alongside with legendary chefs like Tetsuya Wakuda of Tetsuya's Sydney, Massimo Bottura of Osteria Francescana and several more. 
Moving to Dubai in 2014, he joined the Starwood Group and headed Le Royal Meridien latest project, collaborating with Richard Sandoval Hospitality, Zengo. This move provided business and management essentials of running a food and beverage operations. Participated in a culinary convention, Parallelo Norte in Monterrey Mexico alongside Joan Roca of El Celler de Can Roca, 3 Michelin Star Restaurant, Spain.
In late 2016, 3Fils was born in the Jumeirah Fishing Harbor. An original concept that pathed a new wave of home-grown concept serving great food and service out of hotels and lavish locations. In 2019, 3Fils was listed for the 10 coolest places to eat by Forbes magazine and made it to the 50 Best discovery list by The World's 50 best.
On the 2nd January 2021, Goldfish Sushi and Yakitori was opened and was awarded Highly Commended New Casual restaurant by TimeOut awards with just 3 months of opening. With the latest opening in 2022 is 11 Woodfire along Jumeirah Beach Road situated in a stunning 3 storey villa. A cuisine entirely based on wood fire cooking and based on using only premium produce.
Lifetime Achievement Award for Research in Almonds
From 1999-2020, Karen managed the Almond Board of California (ABC) nutrition/food research programs and established the international research network that made science based global messaging standard practice. She led ABC efforts to explore treenut/health/sustainability links and is a member of the INC World Forum for Nutrition Research and Dissemination. In 2016 Karen established the ABC biomass research program to optimize everything grown in an almond orchard. She has a strong record for identifying scientific issues, providing balanced perspective, and mobilizing resources to reach consensus and resolution. 
Previous experience included research and management responsibilities in government and food industry positions and university teaching. She started her career with Unilever, Toronto, but was born and raised in Montreal. She looks forward to water sports with her husband in addition to maintaining contact with the nut industry.
Winner of the 2022 Innovation Award
Cashew Nut Oil Dipping Sauces & Dressings, Olam Food Ingredients (ofi), Singapore
ofi has developed an innovative series of dipping sauces and dressings that uses our minimally processed cashew nut oil. These nut-based products address the explosive growth in the plant-based market and are egg-free and dairy-free. The cashew nut oil used replaces traditional oils like soybean or sunflower oil in conventional dips and dressing recipes. This sauce base has a light clean flavor and adds a desirable creamy texture that complements a wide variety of foods.
The cashew nut oil used in making this product is produced by mechanical pressing without using any thermal or chemical treatment, thereby preserving the nutrients and not altering its natural fatty acid ratios. The fatty acid profile of cashew nut oil is high in oleic acids and lower in polyunsaturated fatty acids as compared to soybean oil. This provides a longer shelf-life and improves stability, as well as limits oil separation. In addition, the cashew nut oil contains tocopherols and phytosterols which are powerful natural antioxidants and are known to deliver several health benefits. 
The cashew nut oil-based dips and dressings are available in three flavors (Plain, Wasabi and Chili-Garlic) but the flavor possibilities are endless.
Good Work Deserves Recognition.
The INC Awards are the premier international showcase of excellence for the nuts and dried fruits industry.
The INC Awards program comprises the Golden Nut Award, the Award for Excellence in Gastronomy, the Award for Excellence in Research and Innovation Award.