Good Work Deserves Recognition.
The INC Awards are the premier international showcase of excellence for the nuts and dried fruits industry.
Honouring excellence in the nuts and dried fruit industry, the Golden Nut Award is the maximum international recognition to the excellence in the sector.
Professor of Paediatric Allergy at King's College London
Gideon Lack is Professor of Paediatric Allergy at King's College London and Head of the Children's Allergy Clinical Academic Group at King's Health Partners Institute of Women and Children's Health at Evelina London, Guy's & St. Thomas' NHS Foundation Trust. He studied medicine at Oxford University before training as a Paediatrician in New York and specialised in Allergy at National Jewish Center in Denver, Colorado. He was Professor of Paediatric Allergy and Immunology at Imperial College London for 12 years before moving to King's College London in 2006.                                                                                                                                                                                                                                                                                          His research focuses on the prevalence of food allergies in children and the relationship between food allergies, eczema, and asthma. He works on novel immune-modulatory treatments for food allergies and on developing new strategies to prevent the development of allergies and asthma in children and adults.                                                                                                                                                                                            The LEAP (Learning Early About Peanut allergy) study, published in the New England Journal of Medicine (2015) showed that early consumption of peanuts in atopic infants reduces the development of peanut allergy by >80%. In 2016-17 these findings were translated into changes in public health policy in the USA and Australia.                                                                                                                                                                                                                                                                                                                                                          Among other affiliations, he is a Member of the British Medical Association, the European Academy of Allergology and Clinical Immunology, and the Royal College of Paediatrics and Child Health.
The INC Award for Excellence in Gastronomy is a recognition that acknowledges chefs who have made significant contributions to high gastronomy: culinary creations and new product development including nuts and/or dried fruits.
The INC Celebrates New Ideas and Innovative Approaches. INC wants to thank all the companies for submitting their products and services for the Innovation Award, and invites INC members to apply, in the form of new products, ideas, services, or business models.
Showcase your brands' latest innovations to a global audience
Don't miss this opportunity to show the nut and dried fruit industry your dedication to innovation and share your brand's new products at the XL World Nut and Dried Fruit Congress, in London! Delegates attending the Congress have the chance not only to share experiences but also to get enriched with new ideas. This contest will select the Top Best new product/service at the XL World Nut and Dried Fruit Congress, in London, May 22-24, 2023. Open only to INC members attending the Congress, this is a unique opportunity to reach 1000+ participants from 60+ countries, highlight your new products/services and enhance your company's reputation for innovation. [Apply now!]
Excellence in Sustainability
The Award for Excellence in Sustainability aims to recognize projects and companies/organizations who show outstanding achievements and inspiration in the field of sustainability. The winner will be announced at the 40th World Nut and Dried Fruit Congress in London, May 22-24, 2023. Open only to INC members attending the Congress, this is a unique opportunity to reach 1000+ participants from 60+ countries, and highlight your company's reputation in sustainability. In addition, the winner will be featured in the NUTFRUIT magazine and Congress video. [Apply now!]
Corporate Golden Nut Award
The Corporate Golden Nut Award will be awarded to OFI. OFI is a new operating group born out of the reorganization of the Olam Group. OFI offers sustainable, natural, value-added food and beverage ingredients and solutions so that consumers can enjoy the healthy and indulgent products they love. It consists of Olam's industry-leading businesses of Cocoa, Coffee, Nuts, Spices and Dairy with operations across America, Africa, Europe and Asia, with a network of 15,000 employees, operational in 48 countries, sourcing directly and indirectly from approximately 2.6 million farmer suppliers globally and operating 100+ manufacturing plants.
Prof. Jordi Salas-Salvadó
Professor and Director of the Human Nutrition Unit, Department of Biochemistry & Biotechnology at the Rovira i Virgili University, Spain
Head of Nutrition at the Internal Medicine Service, Sant Joan University Hospital of Reus. Principal investigator of the CIBER Physiopathology of Obesity and Nutrition (CIBERobn), at the Institute of Health Carlos III. Director of the Iberoamerican Network on Metabolic Syndrome (RIBESMET). Chairman of the INC World Forum for Nutrition Research and Dissemination. 
In recent years, Prof Salas' research has focused on human clinical trials evaluating the effect of diets and dietary compounds on obesity, Type 2 diabetes mellitus, metabolic syndrome and cardiovascular disease. Since 2005, he has been one of the leaders of the PREDIMED study, a landmark trial evaluating the effect of the Mediterranean diet on the primary prevention of cardiovascular diseases.
Since 1983, he has directed 20 research projects funded by national and international public bodies and 25 projects in conjunction with pharmaceutical and food industries. He has published more than 600 scientific studies, as well as numerous reviews and editorials. Editor of 8 books and co-author of more than 50. Has been declared by Clarivate Analytics as "Highly Cited Researcher" in 2018, 2019 and 2020, as one of the most cited researchers in the world.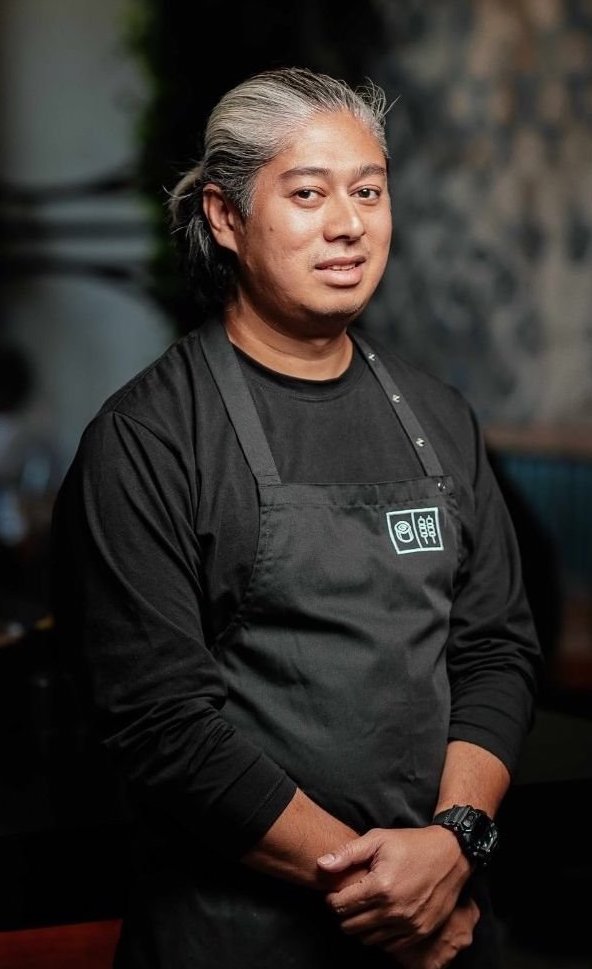 Akmal embarked in his culinary journey at a young age during high school with his parents as a hawker. Life was straight about food, simple food and gatherings. With over 20 years of great experiences working with great chefs like Dan Hunter, Luis Andoni Aduriz and Yasuhiro Sasajima, Akmal has emerged with a style and identity of his own. 
Over a 7 year stint as Head Chef in Iggy's Restaurant Singapore, in 2012, it was in the prestigious World's 50 Best restaurant awards landing it on position no. 26 and No.1 restaurant in Asia. In those years, he has cooked for famous figures including Singapore's late founding father Mr Lee Kuan Yew with other politicians, participated exhibitions, and culinary competition such as the San Pellegrino cooking cup and represented Singapore in a showcase in San Sebastian Gastronomica. He has also cooked alongside with legendary chefs like Tetsuya Wakuda of Tetsuya's Sydney, Massimo Bottura of Osteria Francescana and several more. 
Moving to Dubai in 2014, he joined the Starwood Group and headed Le Royal Meridien latest project, collaborating with Richard Sandoval Hospitality, Zengo. This move provided business and management essentials of running a food and beverage operations. Participated in a culinary convention, Parallelo Norte in Monterrey Mexico alongside Joan Roca of El Celler de Can Roca, 3 Michelin Star Restaurant, Spain.
In late 2016, 3Fils was born in the Jumeirah Fishing Harbor. An original concept that pathed a new wave of home-grown concept serving great food and service out of hotels and lavish locations. In 2019, 3Fils was listed for the 10 coolest places to eat by Forbes magazine and made it to the 50 Best discovery list by The World's 50 best.
On the 2nd January 2021, Goldfish Sushi and Yakitori was opened and was awarded Highly Commended New Casual restaurant by TimeOut awards with just 3 months of opening. With the latest opening in 2022 is 11 Woodfire along Jumeirah Beach Road situated in a stunning 3 storey villa. A cuisine entirely based on wood fire cooking and based on using only premium produce.
Lifetime Achievement Award for Research in Almonds
From 1999-2020, Karen managed the Almond Board of California (ABC) nutrition/food research programs and established the international research network that made science based global messaging standard practice. She led ABC efforts to explore treenut/health/sustainability links and is a member of the INC World Forum for Nutrition Research and Dissemination. In 2016 Karen established the ABC biomass research program to optimize everything grown in an almond orchard. She has a strong record for identifying scientific issues, providing balanced perspective, and mobilizing resources to reach consensus and resolution. 
Previous experience included research and management responsibilities in government and food industry positions and university teaching. She started her career with Unilever, Toronto, but was born and raised in Montreal. She looks forward to water sports with her husband in addition to maintaining contact with the nut industry.
Winner of the 2022 Innovation Award
Cashew Nut Oil Dipping Sauces & Dressings, Olam Food Ingredients (ofi), Singapore
ofi has developed an innovative series of dipping sauces and dressings that uses our minimally processed cashew nut oil. These nut-based products address the explosive growth in the plant-based market and are egg-free and dairy-free. The cashew nut oil used replaces traditional oils like soybean or sunflower oil in conventional dips and dressing recipes. This sauce base has a light clean flavor and adds a desirable creamy texture that complements a wide variety of foods.
The cashew nut oil used in making this product is produced by mechanical pressing without using any thermal or chemical treatment, thereby preserving the nutrients and not altering its natural fatty acid ratios. The fatty acid profile of cashew nut oil is high in oleic acids and lower in polyunsaturated fatty acids as compared to soybean oil. This provides a longer shelf-life and improves stability, as well as limits oil separation. In addition, the cashew nut oil contains tocopherols and phytosterols which are powerful natural antioxidants and are known to deliver several health benefits. 
The cashew nut oil-based dips and dressings are available in three flavors (Plain, Wasabi and Chili-Garlic) but the flavor possibilities are endless.
Good Work Deserves Recognition.
The INC Awards are the premier international showcase of excellence for the nuts and dried fruits industry.
The INC Awards program comprises the Golden Nut Award, the Award for Excellence in Gastronomy, the Award for Excellence in Research and Innovation Award.